General Manager Stuart Dean
Stuart has a wealth of industry experience working around the world in a variety of roles. Whether as a diesel technician on an oil field in Bolivia, working at a uranium mine in Namibia, to management and training rolls around the globe, he's been there and done that!
Stu is a qualified mechanic and has been involved in building up several companies, to be leading brand names that their owners are proud of!
Stu's on a mission to build a legacy at Superior Automotive Service, with his vision and experience, so that every customer has a great experience from our workshop teams of both mechanics and auto electricians under the one roof.
Stuart has a vast knowledge of the industry and its suppliers. He says "I've been putting in place systems and procedures to enhance our customers workshop experience. This has involved changes at all levels of the business, from the moment you walk in the door"
In his spare time Stuart has been seen at Bathurst and other racing venues and loves watching the NRL as well. And if you are passionate about English fictional historical novels, then Stu is your man with an encyclopaedic knowledge of that topic!
So whatever vehicle you drive, diesel or petrol, private or commercial, Stuart can make sure you get the right advice and the best service.
Office Manager Ane Toledo
Ane is from Brazil. She has been living here since 2017. If you visit or phone our North Shore branch, Ane is the person you who will most likely greet you.
As a typical Brazilian she loves the summertime! She says "I think New Zealand has a great summer (I just wish it could last a little longer), with warm temperatures for a nice day at the beach. I live in Northshore and for me it is one of the best places to live in Auckland.
I love the beaches, the parks, the neighbourhood, the familiar atmosphere of the coffee shops and restaurants. One of my favourite hobbies is catching up with my friends, whether at home or in a nice restaurant or pub"
You may also spot her at the local movies or watching Japanese cartoons!
Ane looks forward to meeting you!
Ben moved to Christchurch when he was 17. One day not long after, while the teachers were on strike, he decided to go door to door looking for an Auto Electrical apprenticeship. (sounded more fun than being at school)
After finishing his apprenticeship, he traveled around the world, lived in South America and learnt Portuguese.
Eventually he arrived home and began working for Jay Bee Auto Electrical in Mt Roskill which was established in 1964. Ben bought that business in 2007, which was the start of what is now three automotive and auto electrical businesses in the Superior Automotive Group.
Jay Bee's then acquired Altham Batteries, followed by Civic Automotive, and operated these entities out of Jay Bee Auto Electrical's Mt Roskill location.
In February 2016, it was decided that we would expand onto the North Shore, and A&H Auto Electrical also became part of the family and more recently the group has expanded to include Spurdle Automotive in Avondale.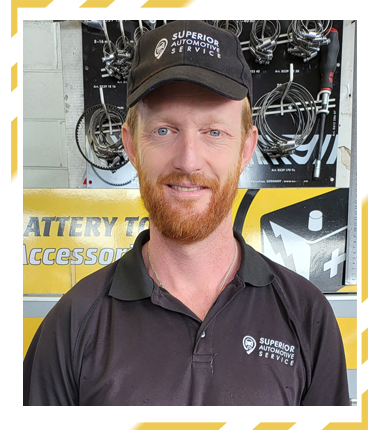 Ben's a relaxed character who enjoys communicating with clients and building a business which has a real family feel to it. He says "I've made all this achievable, by having a great team of staff who all enjoy working together and have a range of specialist automotive and auto electrical skill."
His hectic business lifestyle in Auckland is well balanced by re energising on his family farm in Northland, fishing, camping and anything to do with the outdoors.
Ben looks forward to meeting you the next time you visit